Her name is "baby" until, with a first look, she arrives in your arms.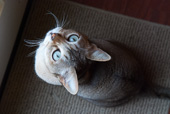 Your Singapura kitten knows what warmth, love and happiness is.
You give her a big kiss. Your heart fills with joy and inspiration as you give her her new name. She's yours!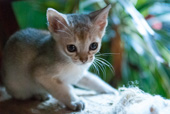 Parents famously do everything to further the development of their children: toys and games, classes, books, education. We do the very same thing to further the development of your Singapura baby: toys, hugs and kisses, playtime, places to run, jump and hide, along with a myriad of other day-to-day opportunities to grow and get strong and healthy, underfoot, in our own home.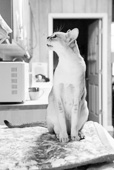 This simply does not happen in a commercial cattery. With us, your growing Singapura kitten gets near constant, personal attention from day one. But it's much more than that. He or she gets to run and jump freely, experience the washing machine and dryer, television and laptop computer, kitchen sounds and smells. In other words, your kitten is ready to jump into your world fully accustomed to the sights, sounds and smells of home life. Most of all, your Singapura kitten knows what warmth, love and happiness is. He is ready for you.
Very typically, Singapuras like their own food, thank you very much: yours is just not good enough for them. Still, true to form, they can be curious about that tuna, turkey or chicken you've just removed from the refrigerator. Singapuras are universally polite, circumspect and respectful. If they are interested at all, they'll politely wait patiently for a small piece, just a taste, grateful for the opportunity to share this little slice of life with you.