This is Aja, our queen. She is a superlative sweetie.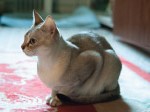 Your Singapura kitten knows what warmth, love and happiness is.
A superior cat, and a birthday gift to me by a friend who also bred Singapura kittens (who has since retired), and the reason I relocated to North Carolina.
Over the two years I worked part time for my friend, her cattery produced a couple hundred kittens and we agreed Aja was the finest kitten produced over that period of time. Aja has since produced two female kittens, including Sheena Es who will, over time, also produce kittens for Asiatica Cattery. Tofu, my fifth female, still a youngster, was be bred for the first time in the Spring of 2017. Five fertile females, that's it.
This is Asiatica Cattery. A unique, home raised Singapura cattery.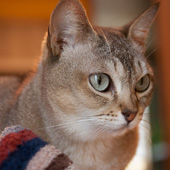 Five fertile females, all from exceptional genetic lines. This will be our limit. We will produce a relative handful of litters per year, so availability will always be somewhat limited. Males are $1,275, females $1,375. A $100 non-refundable deposit will put you on our waiting list for the next available kitten(s).
Each litter, including your baby, will be registered with the Cat Fancier's Association (CFA). By the time your kitten is delivered to you, it will have had all necessary preventative worming medications and vaccinations. You will receive a litter medication form, feline health record card, veterinarian-certified health certificate, and a care package of other goodies guaranteeing your little one will be ready for you and your family. Kittens can be delivered at twelve weeks of age.
About the Owner
I am Mike Lehmann, owner of Asiatica. I am passionate about all living things, especially cats, Singapuras in particular, as well as plants. Here in Central North Carolina, I am developing a private botanical garden, including many rare and unusual plants, many from Asia. In my "other life" I am also a professional landscape architect with more than thirty years of experience in his field. I work out of my home, and it is here, at home where Asiatica Cattery lives. Where I keep a careful, paternal eye on my "flock," including your future baby.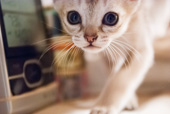 At first blush, many people seem to prefer spayed female cats over males. But look again—neutered males are just as fabulous, maybe more so, than the females. My neutered male, Tsing Hai, is a true sweetie, a "huggy bear". He loves me and I dearly love him. He loves to snuggle in my arms, purring constantly. He's so smart, so good. I love him dearly. Moral of this story: don't overlook a male Singapura kitten!