If you've been thinking about adopting a pure bred kitten…a Singapura kitten in particular, this is what you need to know about Asiatica Cattery.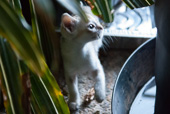 Your Singapura kitten knows what warmth, love and happiness is.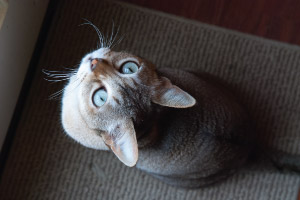 Perhaps you've found my website AsiaticaCattery.com, or have seen my ad in Catster Magazine, or on the Cat Channel, or even FBRL, the Fanciers Breeder Referral List…regardless…these on- line sites only give you a glimpse, a taste of the love, care and passion I put into breeding Singapura kittens.
I am Mike Lehmann, the owner of Asiatica Cattery. I am in my 60's and have been fascinated with Singapura's for more than thirty years. I purchased my first male (Tsing Hai) in 2008 and have been breeding actively for about five years. My goal is nothing less than to provide my customers with the finest, healthiest, most well socialized Singapura kittens available.
Here's how I do it.
Asiatica Cattery is small scale and home based. There are no cages anywhere, ever. All five of my breeding females, my male and Emma, my Devon Rex, are all my personal pets. I love and care for them all as family. I spare no expense with wet and dry foods, litter, love, attention and much more. Kittens are treated the same way…as family, as royalty. They and their mothers are always given top, full attention at all times.
Water bowls (eight in all) are filled, cleaned and refilled multiple times every day. I drop in (with an eye dropper) a vet purchased additive to that water to protect their teeth and gums with every refilling. Dry food is a custom mixture of six different top of the line Purina products. Wet food is always available (depending upon how many kittens I am nurturing at any one time and their age, I can and have gone through as many as 115 cans of Fancy Feast in one two week period!) Two different top of the line nutritional supplements are added to food daily, including L-lysine, an important nutrient for feline health. I also use the finest clumping litter available, use only non clay corn, wheat or similar edible litter for the little ones and have even more than the "one litter box per cat plus one" standard recommended by experts for my crew and kittens.
All my cats are healthy, up to date on their vaccinations and have been tested negative for all major feline diseases. Kittens are likewise given all preventative vaccinations and worming medications to assure a healthy, vigorous start in life as per the American Society of Feline Practitioners. Kittens are released with a vet certified health certificate, and a copy of my in-house produced "litter medication form" detailing the medical care given to each kitten zero to twelve weeks of age.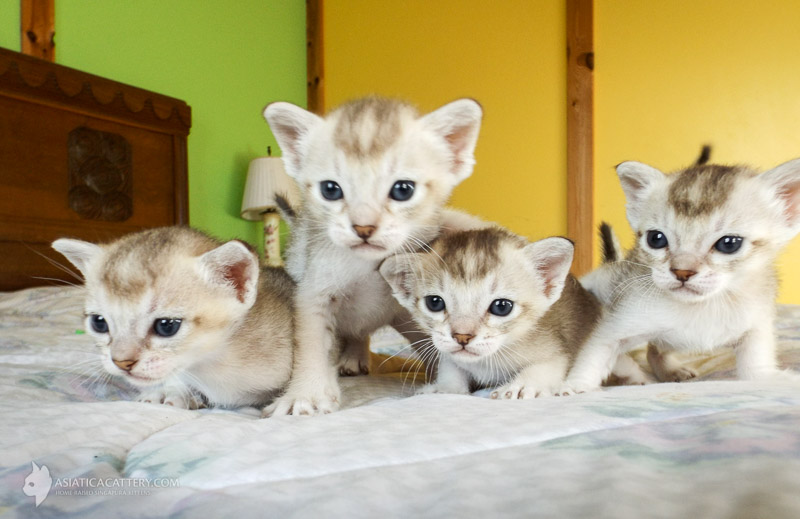 Equally important, kittens (and everyone else) are kissed, held, petted, played with and otherwise talked to and nurtured daily as family until they are released to their new adoptive family at twelve weeks of age. Kitten lessons are learned positively. I do all I can to encourage new experiences and play, to feel human love, warmth, touch and caring as an important part of their growth…every day.
I am also a self employed professional landscape architect and work from home (which also includes a world class horticultural collection…I care for and nurture many thousands of other living things, my plants!!). Being single, I have the luxury and freedom to fill my house with kitten toys of all kinds (no one complains!!). Every day, all day is the right occasion to kiss and hug the little ones, praise and thank momma for her service, and have a spontaneous, impromptu play session. I also watch carefully what they are up to and where they are at as they get older and start exploring the nooks and crannies around the house (the house is also thoroughly kitten proofed). Because I am here most of the time, these events occur all day, all the time.
I treat all, kittens included, like the little intelligent, aware, sentient little spirits that they are. I am devoted to their healthy well being. I love them all dearly…
Needless to say, this is very, very different from many cattery operations…I know this from personal, firsthand experience.
Bottom line: I knock myself out, do whatever it takes, spare no expense to provide you, my customer, with the finest Singapura kittens available.
Still have a few questions? Feel free to call or email me anytime.