Your Singapura kittens have been engaged in fun and play, nurtured, loved, socialized and cared for from day one. He or she is fully ready to be your devoted companion for many, many years to come.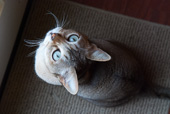 Your Singapura wants to be engaged with you. But it's much more than that.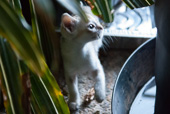 One of the important ways all of my queens and their kitten's, including your kitten(s), is cared for is through excellent nutrition. It is one of those items I take very seriously, as it's essential to your kitten's long term health and wellbeing. I know you share that sentiment, that same commitment.
I get asked often "what do you feed your queens and their kittens" and "what should I feed my kitten(s) once I get him or her"? I would say continuity is important initially: maintaining the diet your little one has gotten used to will, along with your love and attention, lessen the initial stress of his/her new environment. Once he/she has settled in, you can gradually make changes to suit your (and your kitten's) own needs.
In that spirit, and for your own information, this is what your kitten(s) has been eating and drinking…
Besides momma's milk, at about 4 -5 weeks of age, your little one started out with a combination of Gerber's chicken, beef or turkey baby food on the tip of my finger, then quickly graduated to a variety of Fancy Feast wet foods in 3 ounce cans mixed with a bit of warm water morning and evening. The very first dry food your kitten was introduced to was Mother and Baby Cat Kibble made by Royal Canin USA, Inc. St Charles MO; www.RoyalCanin.com, 1-800-592-6687 (momma is allowed to crunch this dry baby food too). Baby's and mothers also get another excellent dry kitten food: IAMS Proactive Health Healthy Kitten with Chicken. Sometimes I'll mix these two kitten foods together. A bit after that, your kitten was introduced to a custom blended dry food mix that's available to all 24/7. They also continue to get a variety of Fancy Feast wet foods daily.
That dry mix, which everyone loves, consists of the following products: 1 part Purina Kitten Chow Nurture, 1 part Purina Cat Chow Indoor, 1 part Purina Cat Chow Naturals Plus Vitamins and Minerals, 1 part Simply Nourish Source Grain Free Adult Indoor Fish and Chicken Recipe, 1 part Authority Grain Free Adult Chicken and Potato Formula and 1 part Purina Cat Chow Complete! You will be provided with a baggie full of this gourmet dry food mix with the delivery of your kitten(s). (Did I mention my cats and kittens are spare no expense pampered!)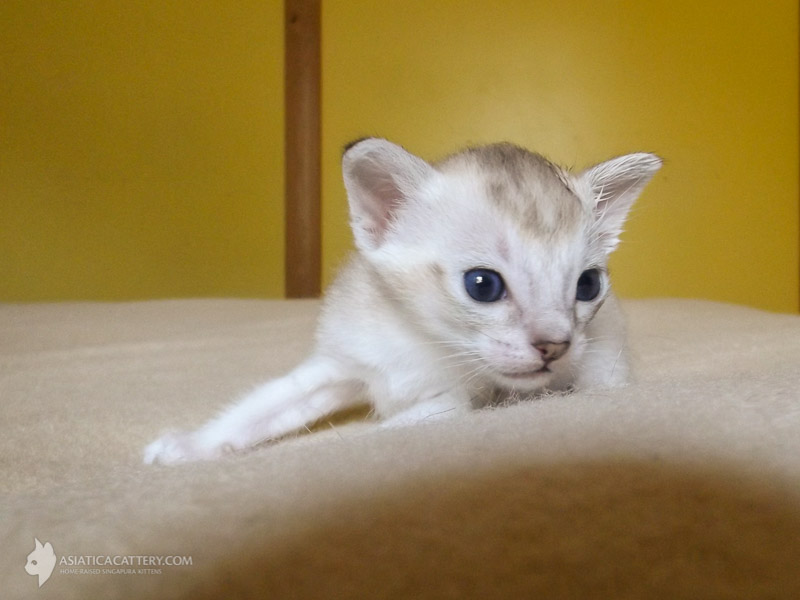 Mixed into this dry food mix daily are two nutritional supplements. The first one is called Platinum Performance Feline Wellness Formula by Platinum Performance Inc. Buellton CA; www.PlatinumPerformance.com, 1-800-553-2400. A sample packet will be included with the delivery of your kitten. I highly recommend it as a nutritional supplement for your little one going forward. The other supplement is an essential amino acid, L-Lysine HCL. The brand I use is Viralys by Vetoquinol USA, Inc. www.Vetoquinol.com 1-800-267-5707. Stay away from supplements made in China.
To promote tooth and gum hygiene, I use an oral hygiene solution in our pet's drinking water (which is changed fresh at least twice a day). That product is Oxyfresh Pet Oral Hygiene Solution by Oxyfresh. Coeur d'Alene ID, www.Oxyfresh.com, 1-800-333-7374. I consider this kind of product to be a first line of defense against pet periodontal disease. Another dental product, a kind of feline "toothpaste", can also be a part of a successful dental hygiene strategy, especially if started early with your kitten(s). That product is Vetri Science Laboratories Perio Support, a "daily support formula for dental health and hygiene"; www.VetriScience.com 1-800-882-9993. I strongly recommend you continue your commitment to your pet's oral hygiene health into adulthood to also include an annual dental checkup..
A word about litters: for the first couple months of your kitten(s) life, I use (and have used) several brands of organic litters, made from ingredients like corn, wheat or walnuts, to guard against the possibility of your kitten(s) trying to eat a clay based clumping litter. The kittens quickly "wise up", see the clay based litter mom is using, and like children and adolescents everywhere, want to emulate mom, which is fine once they're old enough to get up into mom's box.!! I've used a wide variety of clay based scented and unscented clumping litters. In my opinion the best of the major brands is Arm and Hammer's Clump and Seal Multi-Cat Litter. Recently, I've found a truly excellent, dust free corn based litter, ExquisiCat Naturals Brand Multi-Cat Fragrance Free Clumping Corn Litter, available exclusively at Pet Smart. This is the litter I now use exclusively for the little ones.
I use open, clear plastic 55 quart Sterilite storage boxes for the adults and small, open 14"x 10 ¾"x 4 ½" tall Sterilite cream colored boxes for the babies. The best scoop on the market is made by DuraScoop. You can buy these on Amazon.com
I'll mention one treat some of my cats adore: dried bonito tuna flakes. The brand I like is Citi Kitty Tuna Treats, Citikitty, Inc. Morrisville PA 19067; info@tunatreats.com; www.tunatreats.com
Thank you for allowing me to provide you with a truly wonderful little creature. Here's to your Singapura kitten's long term health and wellness!